A Botanist in France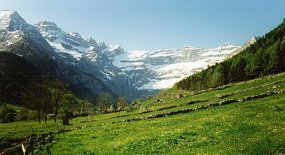 Cirque de Gavarnie, Pyrenees
For many years I avoided driving into France, but over the last few years I have been discovering the rich flora and scenery of the less populated areas such as the Auvergne, Cevennes, Pyrenees, Vercors and Alps. Being able to choose the best visiting times for flowers, some of the sights are almost unbelievable, such as mountain sides covered in wild daffodils and crocuses. There are many diverse habitats, each with its own particular flora. On one memorable 3 week holiday I found over 100 species of plants in flower that I had not seen before.
| | | |
| --- | --- | --- |
| | | |
| Trumpet gentian (Gentiana clusii) | Alpine rose (Rosa pendulina) | Iris (Iris lutescens) |
The talk does not concentrate on any one particular area but visits many places and altitudes to bring you an impression of the warmth and richness of the countryside with photographs of trumpet gentians, orchids of all sorts, tiny alpine plants and much more.
Below are just a few more examples of the views and flora included in the talk.
| | |
| --- | --- |
| | |
| Garrigue | Puy Mary, Auvergne |
Cevennes National Park

Col des Saisies,Albertville,Alps

Jonquil
(Narcissus jonquilla)

Garland Flower
(Daphne cneorum)

Woodcock Orchid
(Ophrys scolopax)

Yellow Gentian
(Gentiana lutea)

Hairy Primrose
(Primula hirsuta)
More pictures are to be found in the photo gallery "Images from France"
email - IanWhitehead1@virginmedia.com

Back to botanical talks index.
All photographs are the copyright of Ian R.Whitehead and may not be used without written permission.
© Ian R.Whitehead 2000