A Botanist in Northern Spain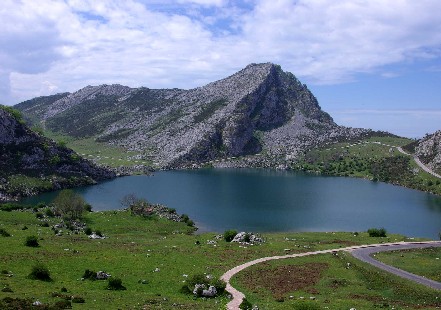 Lago de Enol, near Covadonga, Picos de Europa
The ease of getting to northern Spain by ferry to Santander tempted me to explore parts of Spain away from the beaches. As usual I began by selecting some national reserves to visit and then connected them up for trips of 6-8 weeks in late spring and the early part of summer. Starting on the northern coast I explored the beaches, sand dunes and woodland before moving to the hinterland of Santander. The Picos de Europa was an obvious next destination, and then south to the Sierra de Gredos. From there the journey took me to Segovia, Soria and the Pyrenees. The sudden changes in the underlying rocks meant dramatic changes in flora. The number of species not found to the east of the Pyrenees clearly demonstrated the physical barrier to distribution.
Spanish Iris
(Iris xiphium)

Pink Butterfly Orchid
(Orchis papilionacea)

Fritillary
(Fritillaria lusitanica)
As usual,the talk does not concentrate on any one particular area but visits many places and altitudes to bring you an impression of the warmth and richness of the countryside with photographs of wild narcissi of 5 species, some orchids, tiny alpine plants and much more, all set in context with some enjoyable shots of the scenery.
Below are just a few more examples of the views and flora included in the talk.
| | | |
| --- | --- | --- |
| | | |
| Canyon de Rio Lobos | The Sierra de Gredos | Orchid Meadow, Picos de Europa |
Hottentot Fig
(Carpobrotus edulis)

Dipcadi
(Dipcadi serotina)

Toadflax
(Linaria maritima)

Yellow Turk's Cap
(Lilium pyrenaicum)

Romulea
(Romulea bulbocodium)

Heart-Flowered Serapias
(Serapias cordigera)

Hoop Petticoat Daffodil
(Narcissus bulbocodium)
More pictures can be seen in the photo gallery "Images from Northern Spain"
email - IanWhitehead1@virginmedia.com
Back to botanical talks index.
All photographs are the copyright of Ian R.Whitehead and may not be used without written permission.
© Ian R.Whitehead 2009